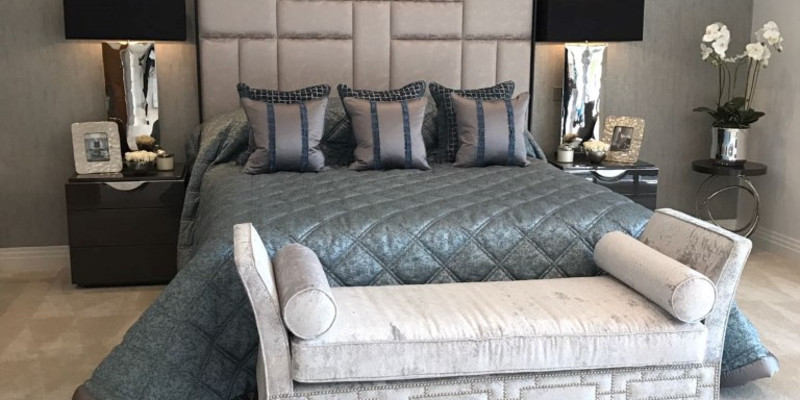 Upholstery Designed and Manufactured
We design and manufacture bespoke upholstery pieces, i.e. sofas, chairs, beds, headboards,
pelmets and wall panels etc, in fabrics and styles to suit your interior/budget, and tailor them to your required size, finish and level of comfort.
What is Upholstery and Why Is It Essential?
In it's most simple terms, upholstery is the materials that make up the soft coverings of most furniture, such as chairs and sofas. These materials include the fabric, padding, webbing, and springs.
When we talk about the importance of upholstery in the interior design world, the materials need to be carefully selected to create the visual appeal of the piece. However, it is not only that, as there are hidden materials that are not visible externally. It is the selection of these internal materials that can be the key difference between the levels of comfort and ergonomics of the piece of furniture.
It is vital for interior designers to stay up to date with the current trends in luxury furniture, from the design and to the styles and more. It is our job to help you in identifying your aspirational fabrics, and working out how we can meet your lifestyle, home character, preferences, and needs.
All About Feeling
To create your luxury dream home, you need to fill it with furniture that suits you, and that means luxury upholstery that meets your goals. One of the easiest ways to avoid costly errors and disappointing arrivals if you choose the wrong furniture is to get real feel for the upholstery.
Come into our Harrogate showroom where we have an abundance of luxury upholstery pieces to showcase. Be sure you like the upholstery material by seeing and touching the frame, or sitting on the chair. If you like what you see, or require something more specific to your interior tastes, we can design and manufacture your perfect bespoke upholstery pieces.