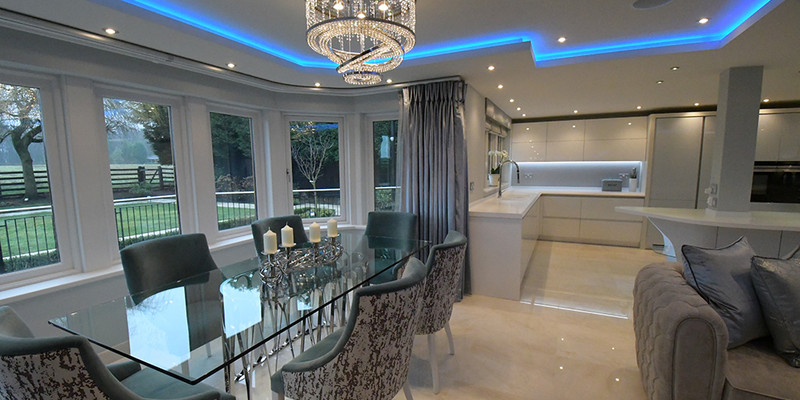 An open plan living space that felt 'closed off', through the placement of oppressive cabinets and dominant window treatments. An impractical kitchen, with one way in and out and limited storage - These were all areas to address, along with a request for a colour scheme that felt calm and relaxing incorporating contemporary finishes, coupled with the desire to feel more connected with the outside views.
The brief was also echoed in the master bedroom suite, where in order to achieve this, a key element of both designs was to involve structural work, by extending both the kitchen and bedroom areas.
As the hub of any house, getting the kitchen design right, was imperative to address the storage and 'flow' issues. In the living and dining areas furniture pieces were lowered and intrusive pelmets and blinds replaced with sheer fabrics. Heavy dining tables and uncomfortable fixed seating, replaced by glass and luxurious 'lumber-friendly' dining chairs, with a mixture of ambient, task and mood lighting to define areas.
Similarly, by extending onto a little used balcony, the bedroom was opened out to create a bay seating area. Pelmets were removed and the pearl / silver colour pallet, with bespoke headboard, wardrobes and cabinets replaced the darker taupe and wenge wood finish of the previous scheme.