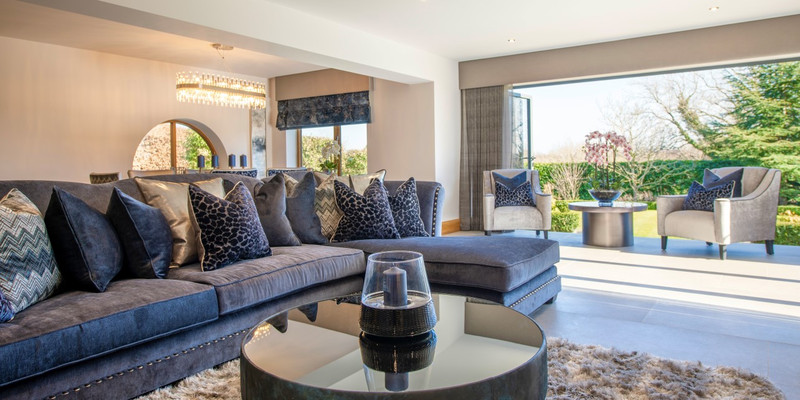 An extension to the existing kitchen-diner, to create a large open plan, family living space, incorporating a soft seating area, with uninterrupted views onto the gardens. Our brief was to come up with a scheme that was seamless with the decor in the rest of the house, practical, as our clients have young children, but stylish for entertaining purposes.
By zoning the areas through a different emphasis on; fabrics, lighting and finishing surfaces, we gave an identity to each space: In the living area, we used rugs, tactile fabrics and ambient lighting, all based around the bespoke sofa and media unit as a focal point.
The dining area features a statement piece table in walnut and stainless steel from our own furniture collection. With its 'live edge' providing a link to the outside, and is easily maintainable for every day usage. Twinned with faux leather, fabric dining chairs and a crystal pendant light we have been able to create a more intimate atmosphere.
Task lighting for the kitchen perimeter is teamed with a feature light over the island unit, which we have picked out in a deep blue and added a pair of bespoke bar-stools in textured leather and cut velvet for softness.
All three areas are linked with a specially selected concrete look, large format ceramic tile and overall colour pallet.
"Excellent is all we can say. We highly recommend Caroline and her team. It has been an absolute pleasure to work with them."
Anna and Michael Dawson
Ex Premier League and England Footballer